30 April 2022 | 9:00 PM - 31 December 2025 | 8:59 PM
Kuwait Chamber of Commerce and Industry Invite Companies to join the UN Global Compact
Kuwait Chamber of Commerce and Industry Inviting Companies and institutions to Join the UN Global Compact
work on aligning their strategies and operations with global challenges represented by 10 global principles in 4 main axes: human rights, labor, environment, and anti-c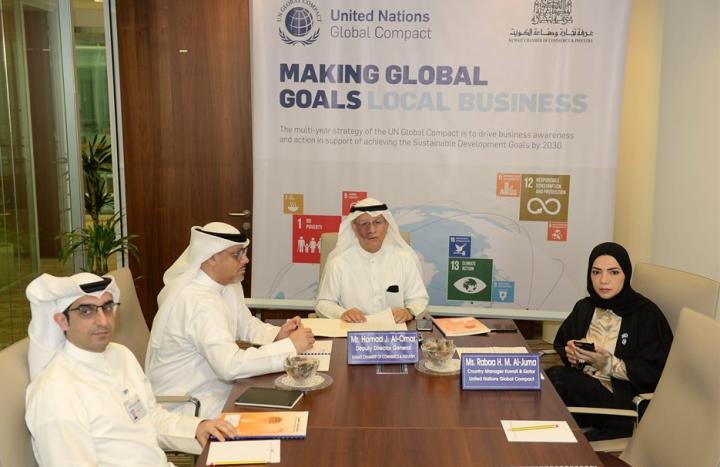 UN entities involved in this initiative
RCO, UN Global Compact
Sustainable Development Goals
Partnerships for the Goals
Contact information
rabaa.aljuma@un.org
Location
Kuwait
Kuwait Chamber of Commerce and Industry
13030 Kuwait
Kuwait
30 April 2022 | 9:00 PM - 31 December 2025 | 8:59 PM
About the initiative
Companies interested can view the electronic link and the files below for more information and to participate:
غرفة تجارة وصناعة الكويت - دعوة للإنضمام إلى الاتفاق العالمي للأمم المتحدة (ekcci.org.kw)
The United Nations Global Compact is a call for responsible companies and institutions to work to harmonize their strategies and operations with the most prominent global challenges represented by ten global principles in four main axes: human rights, labour, environment, and anti-corruption. In the event that the responsible companies and institutions join the United Nations Global Compact and work to take a responsible and integrated approach in principle to address the United Nations development goals in light of the ten announced principles, then there is a great potential for these companies and institutions to become a strong and long-term partner with the United Nations.
The United Nations Global Compact is also committed to providing everything that can be a catalyst and leading supporter of this transformation, which will be adopted by the responsible companies and institutions if they join the agreement, and what the agreement will provide to the participants is also a comprehensive toolkit, including the next generation solutions platforms, and the United Nations Business Center Online and all the resources that will help the participants to take all the necessary measures to achieve sustainable development.
In addition, the local businesses of the Global Compact in more than 85 countries are working to provide business platforms to engage with stakeholders from the government, the United Nations, civil society and all societies to chart a common approach to achieving the sustainable development goals.
The involvement of thousands of responsible companies that work to integrate sustainability into their core strategies and operations and from all sectors from around the world will achieve a common exchange of interests that not only serve the interests of the communities to which these companies belong, but also serve the interests of private companies and therefore work within the United Nations Global Compact It will create many job opportunities, open many markets and achieve long-term sustainability that companies desire and societies aspire for.