Press Release
International Youth Day
12 August 2021
Transforming Food Systems: Youth Innovation for Human and Planetary Health
Kuwait, 12th August 2021 – The United Nations commemorates today the International Youth Day, who amounts to over 1.2 billion young men and women between the ages of 15-24. This day provides an opportunity to celebrate young people and to amplify their voices, actions, initiatives, and meaningful participation. In addition to highlighting the importance of their active and equal role in addressing global issues. The theme for this year's celebration is "Transforming Food Systems: Youth Innovation for Human and Planetary Health" which stresses on the important and pivotal role of young people in achieving this global aspiration.
COVID-19 affected all segments of the population, with young people playing a key role in the management of this outbreak and the recovery following the outbreak. Though much is still unknown on how the disease affects young people, governments are mandated in the World Programme of Action for Youth (WPAY) to ensure their services meet the needs of young people. In these circumstances, it is important to ensure that youth are heard alongside other community and patient voices in the rollout of health and non-health interventions in response to COVID-19. "Young people are on the frontlines of the struggle to build a better future for all. The COVID-19 pandemic has highlighted the dire need for the kind of transformational change they seek – and young people must be full partners in that effort." – UN Secretary General, Antonio Guterres.
In Kuwait, the youth population constitutes most of the demographic scene. Thus, youth play an integral role in the advancement of society and proposing innovative solutions to prospected future challenges. During the pandemic, the Kuwaiti youth rose above and exceeded expectations as they were providing vital support to the Government in multiple domains including human health, the environment, and food systems. Dr. Tarek Elshiekh – UN Secretary General Representative and Resident Coordinator in Kuwait stated that "many youth communities in Kuwait voiced their belief that greening empty spaces remains one of the most effective ways to reduce atmospheric CO2, many of these communities initiated their own initiatives in greening their local communities to elevate their lifestyle and livelihood, by growing their organic foods and vegetables throughout the year. this act falls under the core of the Sustainable Development Goals of the United Nations and the responsibility for the sustainability of the future generation. these youth communities look into change and its positive impact in educating others on the importance of involving all population in learning and contributing to life on land and responsible production and consumption of foods.  Different youth groups are initiating projects of green products that are environment friendly, recycling food waste to use as fertilizers, and greening neighborhoods, these small acts have a large impact on the globe. Kuwait's efforts have been visible through the series of national dialogues in collaboration with the public, private sectors and youth groups who are invested in improving the food chain supplies leading to their involvement in the United Nations Food Summit 2021" 
From her end, Mrs. Hideko Hadzialic – UNDP Resident Representative to the State of Kuwait noted that "Youth constitutes the majority of Kuwaiti national volunteers who worked days and nights during the pandemic to deliver support and food to migrant workers and needed family. GSSCPD, UNDP and UNV jointly developed a volunteer manual to help organizations to support and develop capacity of volunteers and facilitate collaborative management. Youth engagement was distinct during the SME hackathon organized last year to seek innovative ideas to address supply chain challenges during COVID19"
In 1999, General Assembly resolution 54/120 endorsed the recommendation made by the World Conference of Ministers of Youth (Lisbon, 8-12 August 1998) that 12 August be declared International Youth Day. Such a day provides an opportunity to celebrate young peoples' views and initiatives on a global scale.
- End
Ms. Ait ssi key functions are: Contributes to strategic advocacy and programme communications in support of the UN Sustainable Development Cooperation Framework (UNSDCF); chairs and coordinates the UN Communication Group; Assists in partnership building and media relations;Provides substantive support for digital communications; Supports publications and branding management; Assists in the local promotion of United Nations global communications and advocacy priorities on the work of the United Nations in other key thematic areas.
On 9 March 2008, Asmae joined the United Nations Resident Coordinator and United Nations Development Programme Resident Representative Office in the State of Kuwait as Executive and Knowledge Associate. With over 15 years of relatively significant experience, a track record of strong relationship and partnership building with National and International stakeholders and host government, authorities and institutions, Civil Society Organizations, mass Media and the Diplomatic community in Kuwait. Served as a Coordination, Partnership and Communication Officer, contributing to continuous process improvement in the face of rapidly evolving and changing environments. Asmae is also supporting conference management and high-level missions' coordination, maintenance of UN protocol procedures and high-level representation. Have supported and contributed to the success of large international conferences, signature events/activities such as the UN General Assembly summit, Agenda 2030 SDGs good summit, UN Day celebrations, Syria pledging conferences 2 and 3, Iraq Reconstruction Conference and the Yemeni Talks, the Arab League Summit, the Arab-African Summit, Special Human Rights Procedures/Rapporteurs and the UN Security Council and UNTalks forums.

Asmae' s background lies in leading and supporting operations, teams, and processes to propel advocacy initiatives while realizing enhanced corporate success and productivity. She has supported the UNRCO in the
identification and implementation of visionary strategic objectives set by the United Nations Country Team to achieve the 2030 Agenda for Sustainable Development in accordance with the County's vision and aspirations. With a developed political acumen and negotiation skills and familiarity with the local and regional context, Asmae can effectively advocate and communicate with partners the strategic objectives of the UN Country Team and provide sound assistance in the promotion of United Nations global communications and advocacy priorities through new advocacy tools building and media relations, providing substantive support for digital communications and publications and branding management.
Asmae holds a Master's degree in Social Science, in International Management from the University of Liverpool 2015.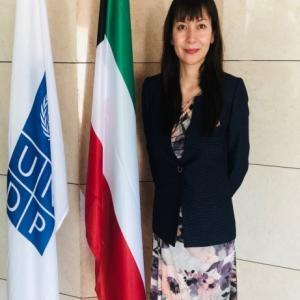 Hideko Hadzialic
UNDP
Resident Representative
Hideko joined the UN in 2001, and since then worked in four regions (Asia and the Pacific; Western Ballans; Middle East and Africa) as well as two postings at the UNDP Headquarters in New York first with the Bureau for Development Policy as the UNDG Policy Network Manager for Millennium Development Goals (2007- 2010), and then Management Advisor for the Office of UN Assistant Secretary General/Bureau of Management (2014 – 2017). Prior to the current position, she was posted in UNDP Sudan as the Deputy Country Director (Programme), overseeing the programme of almost $70M annual delivery per year and fostered close collaboration with the UN Peacekeeping Mission in Darfur. She holds a Master degree in public administration from Harvard University Kennedy School of Government.
UN entities involved in this initiative
RCO
United Nations Resident Coordinator Office
UNDP
United Nations Development Programme
UNICEF
United Nations Children's Fund
UNV
United Nations Volunteers